Good morning. Yesterday this was getting a lot of attention on Twitter – a chart showing the UK at the top of a global league table for Covid deaths.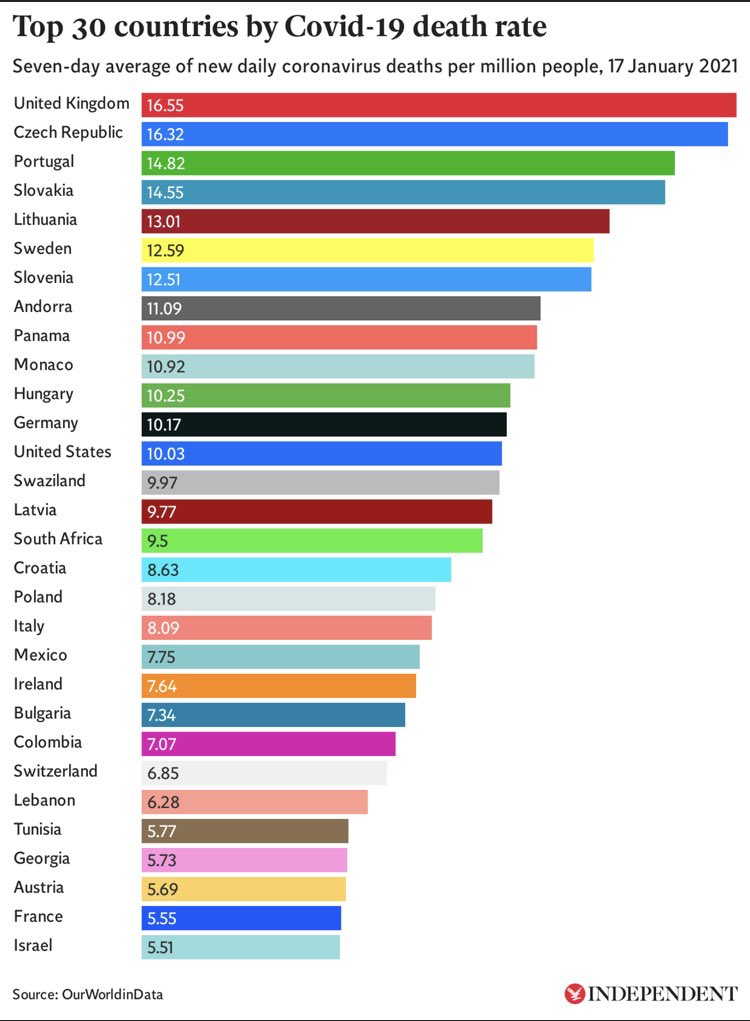 It was produced by the Independent, using information from the Our World in Data website. It does not cover overall Covid deaths, or overall age-standardised excess deaths during the pandemic (which the scientists say will ultimately be the best measure of how countries have performed). Instead the chart ranks countries by their average Covid death toll over the previous seven days as of yesterday. Still, it's not a great record.
Brandon Lewis, the Northern Ireland secretary, was doing the broadcast interview round for the government this morning. Mostly he was asked about the vaccine rollout, where the UK is near the top on most league tables. Here is the most recent chart from the Our Word in Data website.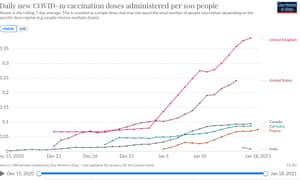 But on Sky News he was also asked about the UK coming top on the chart for current Covid deaths. When it was put to him that this suggested the UK did not have an effective public health strategy, he replied:



It's not really appropriate, or entirely accurate, to do direct comparisons with other countries around the world at the moment. Things move at different points in the cycle. We're not through this virus yet. But … every single death, let alone the scale of deaths that we've seen from this virus, both in the UK and across the world, is one too many. It's an utter tragedy.
Here is the agenda for the day.
9.30am: The ONS publishes its latest coronavirus infection survey, as well as its weekly death figures for England and Wales.
9.30am: Boris Johnson chairs a virtual meeting of cabinet.
10am: Dr Jenny Harries, deputy chief medical officer for England, and other health and scientific officials give evidence to the Commons education committee about Covid and schools.
12pm: Downing Street is due to hold its daily lobby briefing.
12.15pm: Nicola Sturgeon, Scotland's first minister, is expected to hold her daily coronavirus briefing.
12.30pm: A culture minister responds to a Commons urgent question about post-Brexit visa arrangements for musicians.
After 1pm: MPs begin a debate on the trade bill. As my colleague Patrick Wintour reports, the government is facing a revolt from Tory MPs backing a move to give the UK courts a say in determining whether countries are committing genocide.
Politics Live is now doubling up as the UK coronavirus live blog and, given the way the Covid crisis eclipses everything, this will continue for the foreseeable future. But we will be covering non-Covid political stories too, and when they seem more important or more interesting, they will take precedence.
Here is our global coronavirus live blog.
I try to monitor the comments below the line (BTL) but it is impossible to read them all. If you have a direct question, do include "Andrew" in it somewhere and I'm more likely to find it. I do try to answer questions, and if they are of general interest, I will post the question and reply above the line (ATL), although I can't promise to do this for everyone.
If you want to attract my attention quickly, it is probably better to use Twitter. I'm on @AndrewSparrow.